Veggie Bullet Review – Can it Turn You and Your Kids Into Vegetable Lovers?
Product: Veggie Bullet Electric Spiralizer & Food Processor
Size: The Size of a Standard Food Processor
Color: Silver
Price: $129.99 (on sale)
Cheapest Place to Buy: Amazon.com
Amazon Return Policy: Easy 30 days
Warranty: Free One Year Warranty
My Overall Rating: 5 out of 5
Hi Fellow Low Carbers!
Today I want to talk to you about eating vegetables. And yes, you do have to eat vegetables on any low-carb plan.
So before I get into my Veggie Bullet review, I want to explain to you the top 3 reasons why you've probably ditched your low-carb plan in the past.
It's not because you lack will power.  And you're certainly not alone when it comes to not following through on your low-carb plan and get to your goal weight.
Top 3 reasons you're probably not following through on your low-carb diet:
You hate vegetables
You don't know how to prepare vegetables so that they look and taste delicious
You don't know what kinds of vegetables you're allowed to eat on a low-carb plan (Sorry, but French Fries aren't considered vegetables on a low-carb diet)
Let me address each of these reasons because they're all inter-related.
Reason #1: You Hate Vegetables
Why do you hate vegetables?
The reason is probably because you're used to eating vegetables with a high glycemic index.  These high glycemic vegetables include potatoes, corn, peas, and winter squash (think sweet potatoes).  I mean, who doesn't like mashed potatoes and peas or corn with lots of butter?
But these vegetables aren't good for you when following low-carb, especially if you're carbohydrate sensitive because they spike your blood sugar– which leads to you crashing and craving more sugar and starches!
SORRY – NO MASHED POTATOES ALLOWED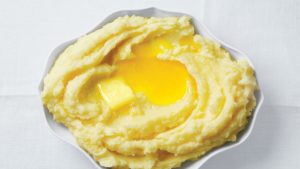 Reason #2: You Don't Know How to Prepare Vegetables
Maybe the only way you know how to prepare vegetables is to open a can of string beans and heat them up in a microwave.  Or you think steamed vegetables are the only way to prepare vegetables.  Worse, the only kind of salad you know how to throw together is the infamous boring salad consisting of iceberg lettuce (yuck with a capital "Y"), tomatoes and maybe some low-calorie dressing.
How boring is that? I'd hate vegetables too if I had to eat that crap day in and day out!
STEAMED VEGETABLES ARE BORING!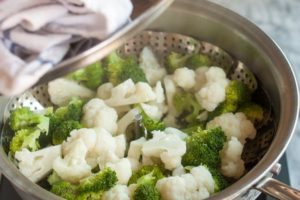 So, in my Veggie Bullet review, I'm going to show you all the different ways to prepare delicious vegetables like Zucchini, Yellow Squash, Butternut Squash, Radishes, Beets, Turnips and more in such a way that's not only eye pleasing, but tastes scrumptious!
I'll also post some 1-minute videos on here that will show you exactly how to assemble and use your Veggie Bullet and how to make delicious meals out of a simple zucchini. Assembly is super easy. I promise!
Reason #3: You Don't Know What Kinds of Veggies to Eat 
Understanding what types of vegetables to eat on any low-carb plan is critical to your health and your ability to lose weight fast and steadily.  But if you don't know what kinds of veggies to eat, you'll keep eating the wrong ones – thus stifling your efforts to lose weight and get healthy.
Now just imagine…
What if I told you that you can make whole meals out of vegetables and protein and that your vegetables will be so tasty, you'll never want to eat mashed potatoes again?  And what if I told you that you can prep your vegetables and meals in advance with lightning speed so that all you have to do when you come home from work is pull your veggies out the fridge, sautee them in a pan…
And dinner for you and your family is ready in 10 minutes?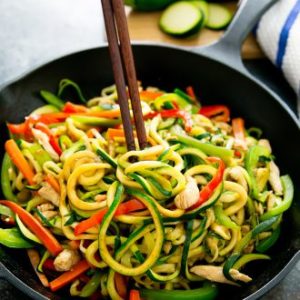 Even better…
What if I told you that your kids are now going to start wanting to eat (and love eating) their vegetables? Sound impossible?  It's not.  Read my Veggie Bullet review and see just how this kitchen appliance is going to make you:
Love Vegetables
Lose Weight Fast
Make delicious main meals in a flash
Prep Meals Ridiculously Fast
Save you time in the kitchen
By the way… I own this incredible machine, and it is nothing short of a miracle!
Veggie Bullet Product Overview 
What is the Veggie Bullet?
The Veggie Bullet is an electric spiralizer that:
Spiralizes
Shreds
Slices
Blends
This awesome kitchen appliance cuts prep time, reduces cooking time and increases your (and your kids) consumption of nutritious, home-cooked meals. With one touch of a button, you can spiralize vegetables, like zucchini, and turn them into "zoodles", shred cauliflower into "rice", shred hard cheese and slice deli meats, and cucumbers in literally seconds.
Veggie Bullet Features 
Patented Cyclonic Spiralizer
Spaghetti Spiralizer Blade
Shredder/Slice Accelerator & Blade
Cookbook with 70+ Recipes
Stainless Steel Blades
Easy Assembly
Dishwasher-safe attachments & accessories
Free One-Year Warranty
What Does The Veggie Bullet Do?
The Veggie Bullet is a very high quality 3-in-1 electric spiralizer, shredder and slicer.  In seconds, it shreds, slices and spiralizes foods with the touch of a button. In a flash it allows you to prepare a wide variety of foods (not just veggies). It takes the hassle and hard work out of food prep and makes preparing a wide variety of healthy homemade meals fast and easy in fun and exciting ways.
10 Benefits of Owning a Veggie Bullet
Reduces prep and cooking time, which means dinner gets cooked and served fast
Increase in home-cooked meals, which means greater nutrition for you and your family
Increased veggie consumption, which means more fiber in your diet, which means better health
You'll stick to your low-carb plan because your veggies will be more exciting and delicious
Faster weight loss because you'll love your vegetables so much you'll eat more of them and less junk food
Your kids will look forward to eating vegetables, which means healthier kids and less time cajoling them to eat their vegetables
Veggie Bullet Recipe Book included, which means you don't have to figure out what to make. Tasty recipes at your fingertips means more motivation for you to stay on your low-carb plan.
3-in-1 function, which means you can throw out your other appliances – less clutter on your counter
30-Day Money Back Guarantee
Preps huge quantities of vegetables (and other foods) in seconds, which means you can prep once, store it in the fridge,  and have meals for up to a week.
What's The Difference Between The 2 Main Attachments?
Attachment #1 – There are 2 different assemblies that come with the Veggie Bullet.  The first assembly is the slicing and shredding attachment. This operates like a regular food process. It cuts your food in thin uniform slices, or finely shredded strips. It expels the food out of a chute.
This part of the attachment comes with a double-sided blade.  One side of the blade is for shredding, and the other side is for slicing.
Attachment #2 – The second attachment is the electric spiralizer.  This piece quickly and automatically creates long, thin ribbons of veggies and fruits that you can use in place of pasta for meals by themselves!  What's great about this attachment is that, unlike manual (hand-cranked) spiralizers, the Veggie Bullet's automatic system creates virtually no mess and keeps all of the contents in one basket.
So… no messy clean up, no splattering all over your counter.
How Do You Assemble The Veggie Bullet?
It's super easy to assemble the veggie bullet. But to make your life easier I've uploaded 3 short videos (about 1 minute each) that walk you through the process of setting up your Veggie Bullet for each of the functions.  The first one is a 1-minute video on how to spiralize:
1-Minute Video on How To Spiralize
1-Minute Video on How To Shred
1-Minute Video on How To Slice
Foods That Work Best With The Grating Function
The grating function works best with hard hard vegetables like:
Carrots
Beets
Turnips
Potatoes
Apples
It's also very useful for shredding hard cheeses and grinding nuts.
Foods That Work Best With The Slicing Function
If you want thin, even slices, use the slicing function for:
Zucchini
Squash
Onion
Firm Tomatoes
Lemons
Limes
Block Cheeses
Meats
The slicing function is also great for coarsely chopping leafy greens such as:
Foods That Work Best With The Spiralizing Function
The spiralizing function works best for the following foods:
Zucchini
Yellow Squash
Potatoes
Sweet Potatoes
Parsnips
Here's the kicker: You can also spiralize beets, butternut squash and apples. But you have to pre-cut them to fit through the spiralizer chute. Below I'll explain what each blade is used for and what kind of results you can expect from that particular blade.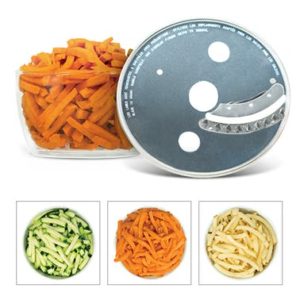 This blade will transform boring root vegetables into french fries! Root vegetables like turnip, parsnip, yukon gold, beet and yuca. Just stick it in the machine, and in seconds you'll have a mountain of shoestring fries.
The Angel Hair Blade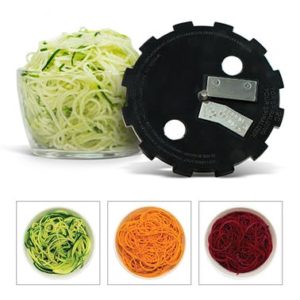 Some vegetables are extremely tough. But the Angel Hair Blade will make beautiful, delicate strands of these tough vegetables, which means the cooking time will be slashed by about 70%. It also adds a lighter touch to certain recipes.
The Curly Fry Blade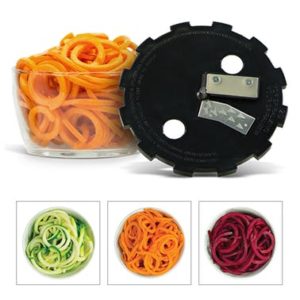 The function of the curly fry blade is to make thicker noodles (but with veggies of course). So let's say you're making Udon soup, or any kind of soup for that matter.  It's also perfect for if you make fruit tarts.  And of course, if you want to make curly fries for your family, they'll love you even more for making these amazing creations!
The Ribbon Blade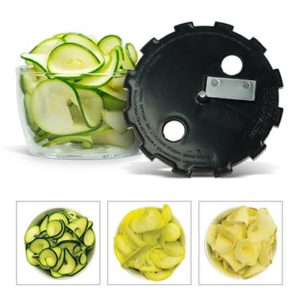 Make your meals beautiful looking and exciting to eat by using the Ribbon Blade!  This blade transforms your veggies into billowing ribbons (just like the title of the blade sounds).  Give your meals the appearance of having been prepared by a world-renown chef.
Veggie Bullet Snowmaker Blade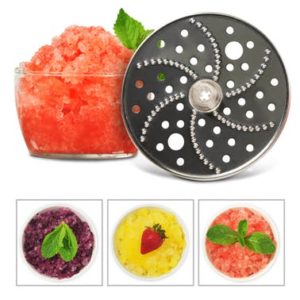 Turn your ice cubes into shaved ice in seconds.  The snowblade is perfect for making snow cones and slushies. Just put the blade in, and add ice.
Steak French Fry Blade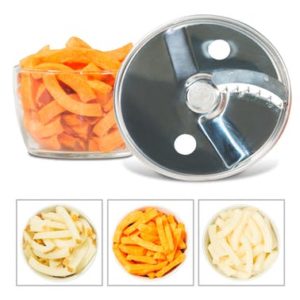 While the Shoestring Fry Blade makes thin french fry type veggies, the Steak French Fry Blade does the opposite. With this blade, you can create steakhouse fries out of vegetables in mere seconds. Make a perfect steak and have a low-carb steak fry veggie and stay on track!
Tornado Spiral Blade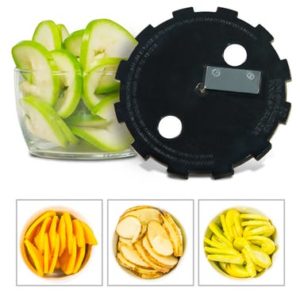 While the regular spiral blade is awesome, this Tornado Blade is for making those super long never ending spirals of veggies. Your kids will have so much fun eating these!
Super Easy To Clean 
The Veggie Bullet is super easy to clean. First, and foremost, always unplug your machine before you assemble or disassemble your Veggie Bullet.  All individual pieces, with the exception of the power base, can be washed separately with soap, water and a sponge.
5 Safety Tips For Using Your Veggie Bullet
Tip #1 – For larger pieces of food, trim them down so that they fit in the chute. The more uniform you can cut your pieces of food before putting them in the chute, the better results you'll get.
Tip #2 – For the pieces of food that get stuck in the blade, a cleaning brush is included to get into the nooks and crannies.
Tip #3 –  The power base can simply be wiped off with a damp cloth
Tip #4 –  Never put the power base in water or the dishwasher.
Tip # 5 – All of the pieces (except the Power Base) are top-rack dishwasher-safe.
I hope my Veggie Bullet Review was helpful. I wrote this review based on my experience.  I totally love this machine. Right now Amazon is having a sale on the Veggie Bullet. So you can buy your Veggie Bullet for only $129.99, and save 26% ($39.50).
Please leave your comments for me below. I love listening to my reader's feedback, especially if my reviews are helpful to you. If you've purchased a Veggie Bullet, I invite you to share your experience with me and other readers by posting in the comments section.
Warmest,
Shalisha