Spiralized Lo Mein – Chinese Takeout With a Low Carb Twist
Hi Fellow Low Carbers!
Today I'm going to bring you a dish from Asia – with a low carb twist. Actually, the dish is from the Veggie Bullet Cookbook here in New York City. But the flavor of the dish is Asian. Close enough. How about that? So this dish is called Spiralized Lo Mein.
It's like Lo Mein you'd order from the Chinese Takeout – but low carb. By the way, this recipe calls for shrimp. But you can easily substitute this protein with chicken, beef, or pork.
So let's get ready to take a trip to the Orient!
INGREDIENTS
(Serves 2-3)
Carbs Per Serving Approx. 7 Carbs Per Cup
1-inch piece of ginger root, grated with Shredder Blade
1 carrot, scrubbed and grated with Shredder Blade
2 cloves garlic, minced with Shredder Blade
6 shitake mushrooms, sliced with Slicer Blade
3 green onions, trimmed and sliced with Slicer Blade
1 red bell pepper, cored, cut into thirds, and sliced with Slicer Blade
2 large yellow squash, trimmed and spiralized
2 Tbsp. Bragg's Liquid Aminos or soy sauce
1/2 – 1 Tsp. Sriracha Sauce
1 Tsp. Sesame Oil
2 Tbsp. olive, sunflower seed or coconut oil, divided
1 lb fresh shrimp, cleaned, deveined, and peeled, with tails on
1 Tbsp. rice vinegar
1 Tsp. white or black sesame sees to garnish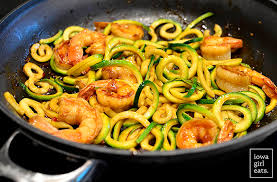 DIRECTIONS
Grate ginger, garlic, and carrots with the Shredder Blade into separate bowls. Switch to the Slicer Blade and slice mushrooms, green onion, and bell pepper into separate bowls. Switch to the Spiralizer set and spiralize the squash. Set aside.
In a small bowl, mix together ginger, aminos/soy sauce, Sriracha, sesame oil. Set aside.
Heat olive/sunflower seed/coconut oil in a large skillet or wok over hight heat. Add garlic, mushrooms, and green onions. Cook for a minute, then add peppers, carrots and water chestnuts. Cook for another minute, then add rice vinegar. Cook for another minute.
Add the soy/ginger sauce and spiralized noodles. Cook for 3-5 minutes until squash noodles are tender-crisp. Set aside.
Heat second Tbsp. of oil in separate pan over medium heat. Add shrimp and stir until firm and opaque on each side, about 2-4 minutes, depending on size.
Arrange noodles in a bowl or dish and top with desired amount of shrimp. Garnish with sesame seeds. Enjoy! If you're looking for a super awesome electric spiralizer, please read my Veggie Bullet Review.
Have you tried this recipe? Have questions? Please leave your comments below!
Warmest,
Shalisha