Yellow Squash Noodles With Spicy Tomato Sauce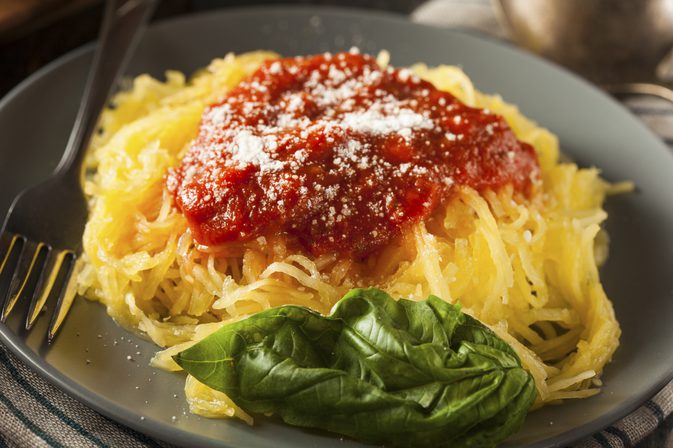 Hi Fellow Low Carbers!
Yellow squash is super tasty and low in carbs. In fact, 1 cup of this cooked yellow, oblong-shaped veggie is only 8 net carbs! That's fantastic, considering you need to get at least 12-15 carbs from foundation vegetables (think salads) and another 5-10 from cooked veggies (if your carb intake is higher for the day, you get more).
It really doesn't matter the configuration, as long as your intake is at a minimum, 17-20 net carbs from vegetables. That being said, I'd like to share with you a recipe I got from…
You guessed it – Veggie Bullet Cookbook! I love this cookbook. I got it free with my Veggie Bullet (see my Veggie Bullet Review), and I'm always tweaking the recipes to suit my carb count. So here it is.
INGREDIENTS
Serves 2-4
1 small onion, sliced with Slicer Blade
2 cloves garlic, sliced with Slicer Blade
3 yellow squash, sprialized in Spiralizer
2 cups spicy tomato sauce
1/3 Cup fresh chopped parsley, to garnish
DIRECTIONS
Heat oil in a large skillet over medium heat. Add onion and garlic and saute until translucent. Add squash "noodles" and cook until lightly brown, about 5 minutes, stirring occasionally to cook evenly.
Pour tomato sauce on top of the "noodles" and stir to coat. Cook for an additional 3-5 minutes until thoroughly heated. Season with salt and pepper and divide between serving bowls. Garnish with fresh parsley and Parmesan cheese, if desired.
SPICY TOMATO SAUCE
INGREDIENTS
1/2 onion, sliced with Slicer Blade
3 cloves garlic, sliced with Slicer Blade
2 Tbsp. olive oil
1 1/2 Tbsp. crushed red pepper flakes
1/3 cup tomato paste
1/2 chicken broth
1 can crushed tomatoes
1/2 tsp. salt
pepper to taste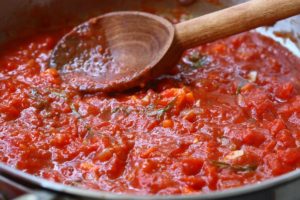 DIRECTIONS:
Heat olive oil in a large saucepan over medium-high heat. Add crushed pepper flakes and cook until oil is infused, about 1 minute. Add onions, and cook until translucent, about 4 minutes. Add garlic, and cook until just brown, another 3-5 minutes. Add tomato paste and chicken broth and stir to mix with the onions, garlic, red pepper, and oil.
Continue stirring as the mixture bubbles for roughly two minutes. When contens start to stick, add the crushed tomatoes and salt. Stir until firmly combined, reduce heat to low, and let simmer 5-10 minutes, until sauce reaches desired consistency. Serve over yellow squash noodles dish. Enjoy!
Have you tried this recipe or have questions about this recipe? Please leave your comments below.
Warmest,
Shalisha